Microneedling has been called the "new Botox" for good reason — it is the newest, hottest trend in skin care. Celebrities like Kim Kardashian, Naomi Campbell, and Cindy Crawford swear by microneedling treatments to reduce scars and wrinkles, as well as keep their skin looking plump and youthful.
With its quick recovery time and ability to produce phenomenal results, it's no wonder microneedling has become a viral sensation online. However, you will notice one common theme across social media: people post before and after photos without sharing much info about the actual procedure.
It leaves people wondering: Is microneedling safe, and does it give the results as claimed?
We've compiled a comprehensive guide that's backed by medical studies conducted on the outcomes of microneedling.,
What is Microneedling?
Microneedling is a procedure in which a tool with tiny needles runs across the skin. The process aims to achieve collagen induction. As the small needles graze over the skin, tiny wounds are made.
In reaction, the skin will produce new collagen in order to heal itself. After the healing occurs, the appearance of the skin will be vastly improved.
The procedure can be done with a derma roller, derma stamp, or pen. The needles vary in size from 0.1mm up to 3mm.
The size of the needle will be determined by the professional doing the procedure. They will consider the condition of your skin, the area of the skin being treated, and the desired outcome.
Microneedling is a popular "non-surgical" option to obtain similar skin benefits as laser treatments, chemical peels, and surgical procedures. It is much less invasive than these options and is effective in improving the appearance of acne scars, stretch marks, and wrinkles while making the skin more radiant.
What are the benefits of Microneedling?
There are many benefits to getting microneedling done. It boosts collagen production and improves the skin's elasticity, which can reduce the appearance of age spots while tightening and toning the face at the same time.
The most common reasons why people choose micro-needling include:
Repairing Acne Scars
Did you know that 80% of people between the ages of 11 and 30 will experience acne, and 1 in 5 of those people will be left with acne scars?
Acne scaring is not something you have to live with. Its efficacy in repairing acne scarring has been studied by the Department of Dermatology at the University of California Irvine, and noted that microneedling is highly effective in treating acne scars.
Reduce Wrinkles
Anti-aging is a top-of-mind issue for most of us. We all want our skin to look healthy and youthful without the use of painful facelifts, chemical peels or surgery.
Professional microneedling is a great option to help to restore youthful skin and reduce wrinkles. In fact, a recent study proved that after repeated micro-needling procedures, the amount of collagen and elastin in the patients' skin increased by 400% after 6 months.
Typically after a microneedling treatment, you will see improvements in wrinkles and fine lines, and your skin will become firmer and tighter within the next 2-3 days, and these benefits can last from a few weeks to months.
Rejuvenating & Maintaining Skin
As we age, our skin's appearance is greatly affected by photo-aging, hormonal, and intrinsic aging factors. This causes our skin to thin, and the production of new collagen to slow down.
Microneedling stimulates your own body's ability to produce collagen in the top layers of your epidermis and dermis, which promotes hydration and elasticity.
New collagen and elastin are what makes your skin look young, firm, and elastic. Collagen is a protein that binds the layers of your skin together, keeping it firm and taut. Elastin is a protein that gives your skin flexibility. Both of these proteins play a role in keeping your skin healthy and help protect it against free radical damage and aging.
A professional microneedling device can not only reach the epidermis (the top layer of skin) but can also penetrate the dermis (a deeper layer of skin). Most facial creams do not go below the first layer of the skin.
Furthermore, the tiny holes left by the microneedling process allow vitamins and nutrients to better penetrate the skin. This leaves room for new cells to grow which helps your skin look smoother and prevents wrinkles from forming.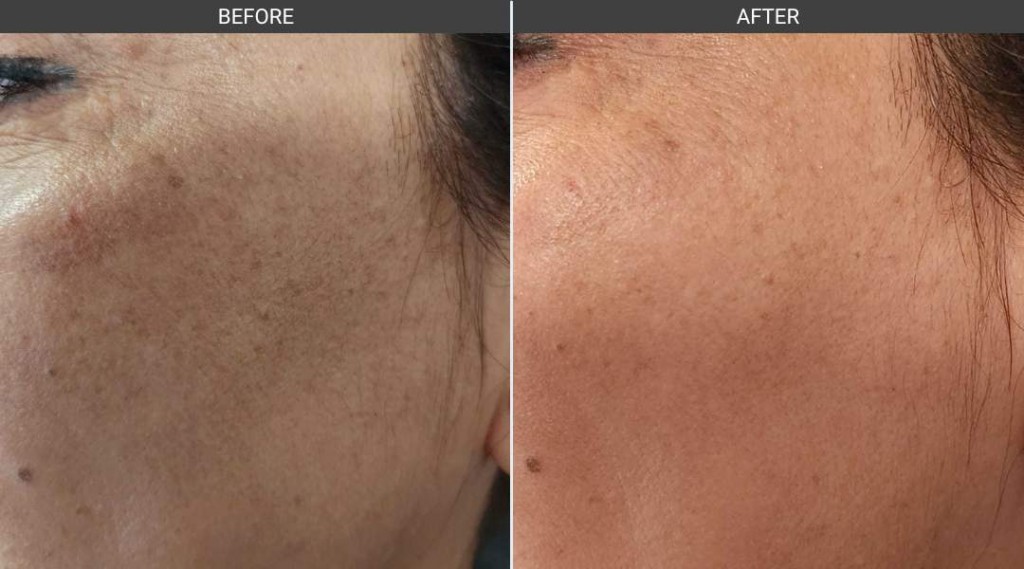 What is microneedling not good for?
Microneedling is not suitable for people with eczema, diabetes, a weakened immune system, people with clotting or bleeding disorders, and people who take blood thinners. This treatment is also not recommended for people with raised scars, keloids, or active acne.
As demand for microneedling increases, experts are concerned about the standards of non-medical microneedling at home. When facilitated by a trained professional, microneedling is generally safe for all skin tones and types.
Professional-grade microneedling has great benefits compared to microneedling at home. Aside from relying on the expertise of a licensed esthetician, professional clinics will have higher-quality pens and needles. As well, a professional will properly show you how to take care of your skin after microneedling. This will greatly reduce the chances of post-procedure complications.
If you need help determining if your skin would benefit from microneedling, it's best to schedule a consultation with a professional to determine if you are a good candidate for this procedure.
Microneedling Side Effects
Microneedling is safe and effective, but as with any medical intervention, there are some minor side effects.
Swelling
Redness
Discomfort
Minor bleeding
This can last for 48 to 72 hours. But Not to worry, this is completely normal as your skin is going through a regenerative process.
Myths about microneedling
Myth #1: Microneedling should be done at home.
Truth: There are many at-home microneedling devices on the market. However, for best results, a professional should administer the procedure. The risk of at-home microneedling can include infection and damage to the skin. Therefore, you should always see a skin care professional to prevent possible skin damage and to see if you are a candidate before starting the treatment.
Myth #2: Microneedling is not a good procedure for tan or dark skin.
Truth: Microneedling works well on any skin tone if done by a professional. The American Academy of Dermatology states that microneedling is a minimally invasive approach to enhance the appearance of darker skin and is safer than other invasive procedures and injectables.
Myth #3: Microneedling is very painful.
Truth: Microneedling can be uncomfortable, but it is generally well tolerated. The sensation isn't painful, but rather it just feels like little "pinches" beneath the surface of the skin. At Dermatouch, a licensed aesthetician will use numbing cream prior to microneedling to make your skincare experience more comfortable and effective
The key to micro-needling is proper aftercare, which can help you to recover faster and enjoy the benefits of this treatment for a longer period of time.
Closing Thoughts
Microneedling is not a passing fad. For those who want to achieve younger-looking skin without undergoing surgery or requiring expensive creams, this treatment is an excellent way to do so.
The decision to get microneedling is a personal one. However, if you decide microneedling is the next step in your skincare journey, you can be assured that your before and after photos will prove that microneedling is highly effective.
Consult with a Licensed Skincare Specialist
Skincare is important, but it isn't always easy. That's why we provide professional microneedling at our Richmond Hill clinic.
Our staff of licensed estheticians will customize your treatment based on the results you seek and your skin condition—without any injections or downtime.
We're happy to offer you a free consultation if you're interested in learning why more people choose microneedling over other anti-aging procedures.